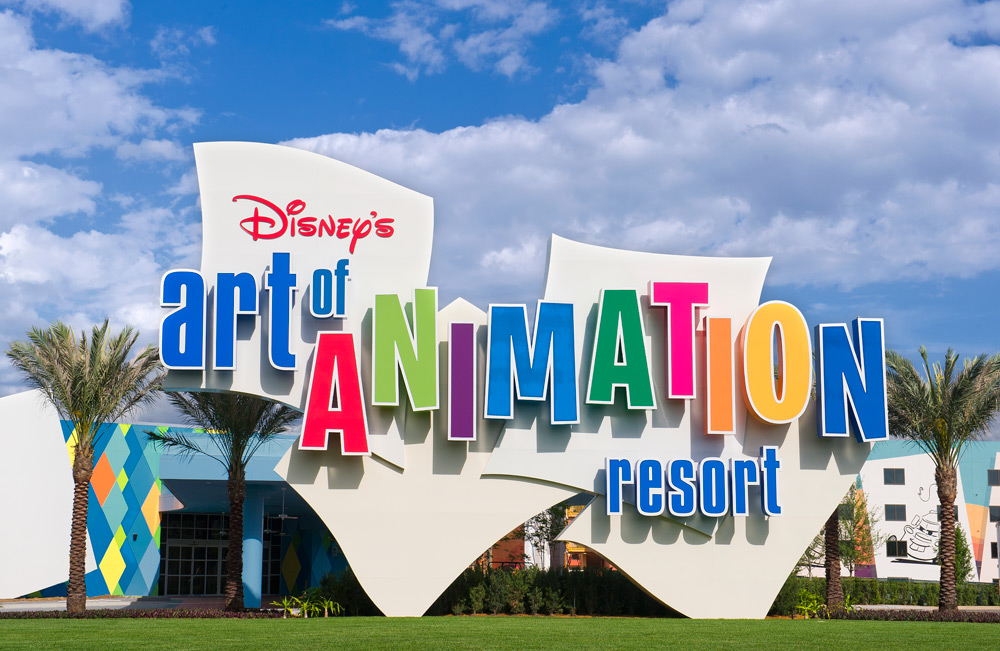 Did I give it away? I have stayed at every single Walt Disney World Value Resort a few times, and my answer here is pretty easy: Disney's Art of Animation Resort. In fact, the contest really isn't even close.
Opened during 2012, Disney's Art of Animation is Disney World's newest "resort" (technically, there have been a few Disney Vacation Club Resorts open since then). The resort was originally planned to be the second half of Pop Century, but only the main building and a few buildings were started before construction was halted due to a slow down at Disney. When the time came, Disney decided it needed a brand new resort, mostly because they finally figured out people would rather stay somewhere that is themed after their fantastic animated movies rather than giant rubik's cubes and bowling alleys.
Disney's Art of Animation features 864 Little Mermaid themed "standard" rooms and 1,120 family suites, with either Lion King, Finding Nemo or Cars themes. The standard rooms are identical in size and layout to the rooms at Pop Century, since these were completed in the existing buildings that were abandoned earlier. The family suites are brand new, and not really available anywhere on property.
What about the other Value Resorts?
I don't really have a problem with the other value resorts, but they just aren't as good as Art of Animation. The All-Star Sports, All-Star Movies and All-Star Music resort suffer from a few setbacks that are just too much for me to overcome. They tend to the be home base for any youth dance, cheer or sports teams staying at Disney. This severely skews the adult to child ratio, and leads to a less enjoyable experience. Also, these three resorts are built next to each other, and most times, the three resorts share one bus, so if you happen to be near the end of the line, there are times the bus will not even stop due to capacity. If your family really wants to stay at the resorts (especially Movies), you will have a blast.
Pop Century was for quite a while my default value resort, and while there isn't really any downsides there like at the All-Stars, Art of Animation is just much, much better. I am still very happy to stay at Pop Century, it just isn't my first choice.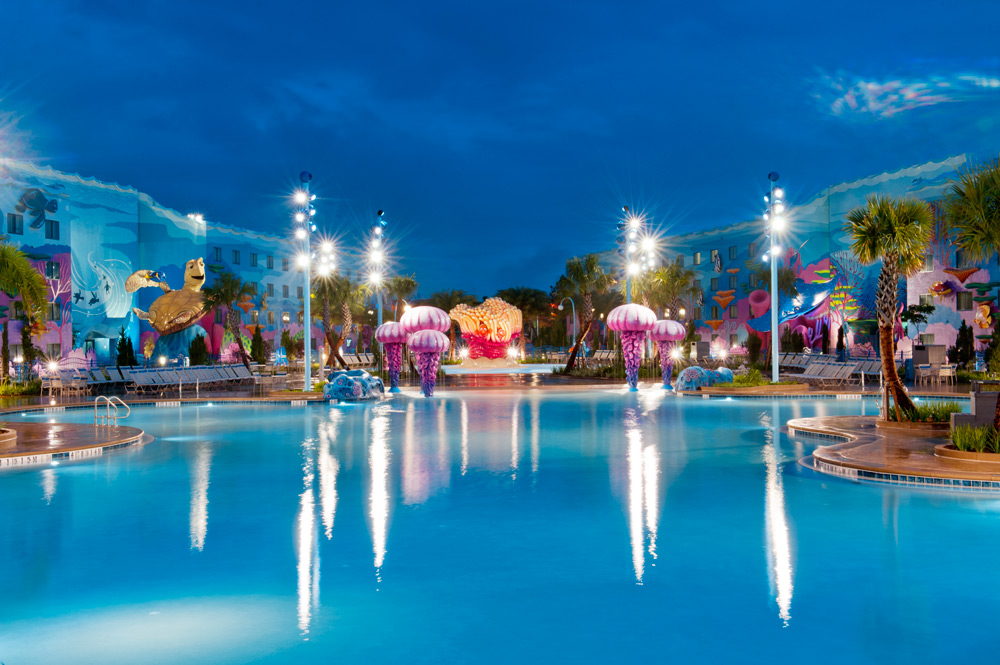 What makes Art of Animation Special?
Little Mermaid rooms – Who has a little girl that doesn't love the Little Mermaid? Think about it, these are the only rooms on Disney property themed after a Disney princess. All-Star Movies has sections themed after The Mighty Ducks and Herbie the Love Bug. How many kids even know who The Mighty Ducks are? The Little Mermaid rooms are super cute, and really well done. There is even a Little Mermaid themed pool for your little mermaids to enjoy.
Family Suites – These family suites were probably the most requested room option at Walt Disney World for 20+ years. If you were on a budget, and had a family of 5+, you were extremely limited at Disney. There were the cabins at Fort Wilderness, but those don't really suit some people. Some of the rooms at Port Orleans – Riverside could sleep 5 with the use of a trundle bed, or you could get 2 connecting rooms at a value resort. None of the options were optimal, but the family suites are fantastic. They feature a "master bedroom" with its own bathroom, a front room with a fold down table/bed combo as well as a pull out couch and another bathroom. These work great for a family with kids, and who doesn't love Cars, Lion King or Finding Nemo?
Landscapes of Flavor – This is Art of Animation's food court, and it is head and shoulders above the other food courts in terms of offerings and food. You can find a pretty decent meal here.
The Big Blue Pool – My favorite Value resort pool by far. Located in the Finding Nemo section of the resort, this pool is just beautiful, and surrounded by great Nemo decorations and oversized characters. Did you know this pool is the largest pool at Disney World outside of the water parks?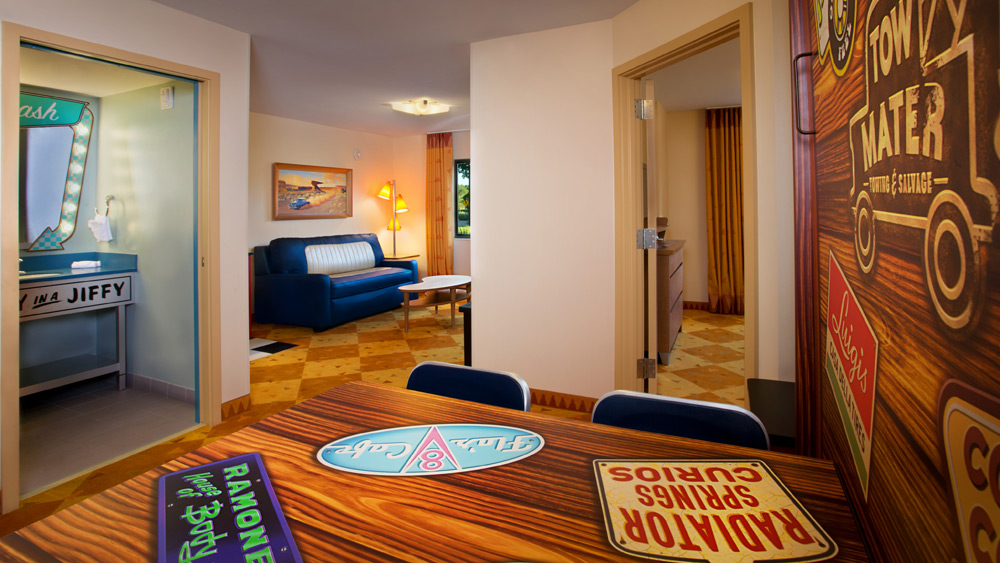 What are the downsides of Art of Animation?
Not every Disney resort is perfect, and the Art of Animation has a few drawbacks:
No discounts – Ever since the Little Mermaid rooms opened in 2012, they have been excluded from every single Disney discount that has been released. If you want to stay there, you are going to pay the full rate. Sometimes during the years, like over Christmas, that really doesn't matter since nothing is discounted, but most of the year, you pay a decent premium to stay in these rooms. The Family suite are usually included in all discounts.
Value resort – This is after all, still a value resort. So, you aren't near a theme park, the pools don't have slides or other amenities, there is just a food court, not a nicer restaurant, and the room quality isn't as nice as the moderate or deluxe resorts. That said, I think I would rather stay in an Art of Animation family suite that most of the moderate resorts, if the price is close.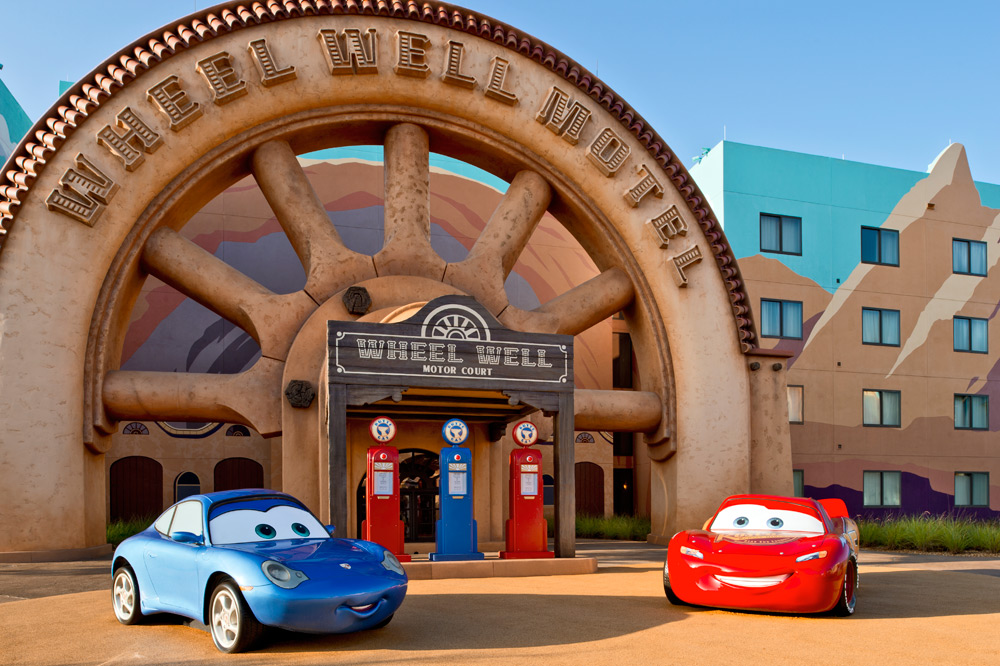 Have you stayed at Disney's Art of Animation?