Each Friday, I provide 5 Disney things all Disney fans should know from this past week, just in case you missed them. This week was a very, very slow Disney news week. Here are the super important Disney news items for this week:
Disney Dollars Ending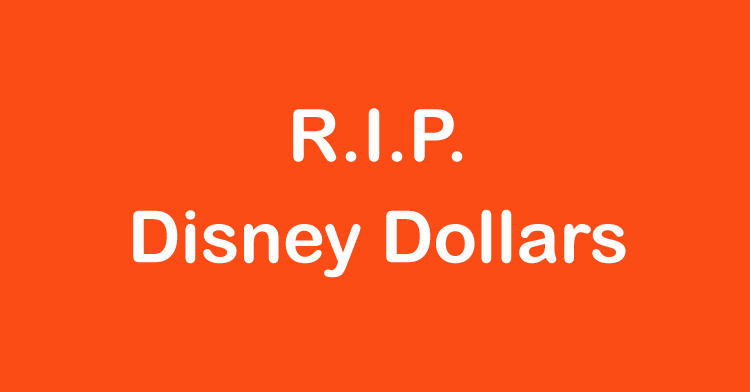 While many of us assumed Disney Dollars had died years ago, they hadn't. Disney announced yesterday that Disney Dollars would no longer be for sale as of May 14, 2016. While Disney and consumers had moved to Disney Gift Cards years ago, many people still purchase Disney Dollars as souvenirs of their Disney vacation. They will be missed.
For more information: R.I.P. Disney Dollars
Custom MagicBands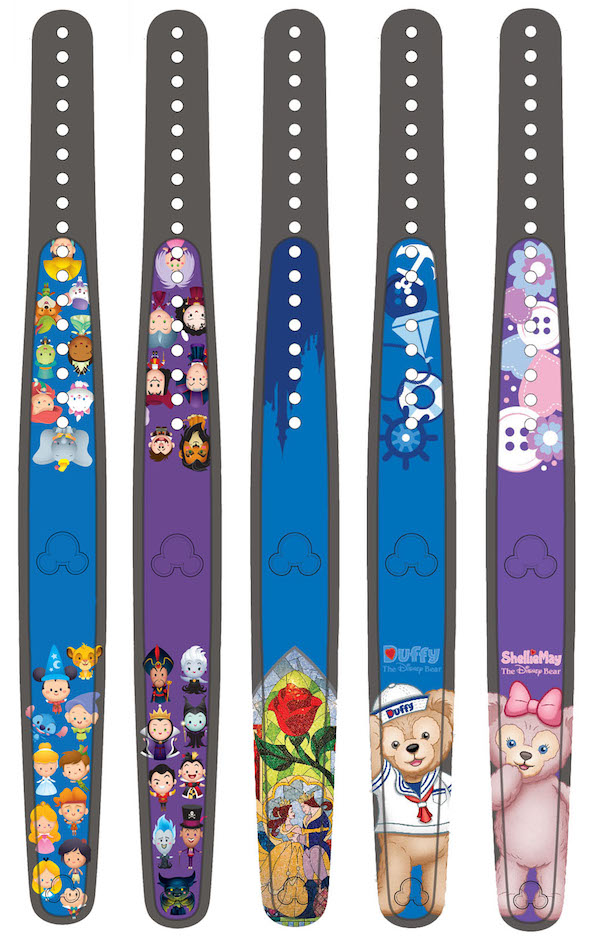 Walt Disney World announced this week that their on demand printing system that has been used for smart phone covers and other items now is able to make custom MagicBands for guests. Not only now are you able to choose your favorite attraction to be on your MagicBand, you can also add your name right there on the band. Not only can you choose from attractions, but some long closed attractions are included such as Mr Toad's Wild Ride and 20,000 Leagues Under the Sea. Plus, you can also choose from a few Haunted Mansion and Pirates of the Caribbean characters. Of course, Disney can add in any additional artwork at anytime, so watch for additional options in the future. Custom MagicBands start at $24.99, $32.99 if you add your name to the band.
For more information: Artwork Added to Retail MagicBand on Demand Stations at Walt Disney World Resort
7 New Restaurants opening in Disney Springs this Week

As a new section of Disney Springs opens this weekend, there is a large group of restaurants that are opening for the first time, including a Poutine place! Check out all the great options!
D-Luxe Burger: Grab a classic cheeseburger or go for something indulgent like the El Diablo Burger with chorizo, fried banana peppers, pepper jack cheese, lettuce, tomato and chipotle mayo. There's a veggie burger too. Plus gelato shakes, fresh-cut fries and more from the Disney chefs.
Amorette's Patisserie: Classic and contemporary cakes and pastries are the stars in this high-end pastry shop where guests can watch pastry chefs decorate signature cakes in the on-stage finishing kitchen. From a classic macaron or crisp, light pavlova to the ultimate chocolate-chocolate chunk cookie, Amorette's is a dessert lover's dream come true.
The Daily Poutine: This kiosk brings the Canadian classic to guests with four varieties of toppings on hot, crispy French fries: Classic, with beef poutine gravy and Cheddar Cheese curds; Latin with fried yucca, black beans, pulled pork and queso fresco; Italian with bocconcino mozzarella and Bolognese sauce, and French with mushroom cream sauce and Gruyere cheese. Pair them with a lemonade, draft beer, sangria or fountain sodas.
B.B. Wolf's Sausage Co.: A kiosk with artisan sausages by Disney chefs – the Three Little Pigs with a Reuben dog, black bean salsa and chili cheese; Portuguese Sausage with pickled vegetable slaw and chili mustard; Sweet Hot Sausage with peppers, onions and marinara; Bavarian Sausage Sandwich with a mini-meterwurst, braised red cabbage and spicy brown mustard on a pretzel roll, and Italian Veggie Sausage with peppers, onions and marinara. Add a draft beer or fountain soda.
YeSake: At this unique kiosk, try a Sake Cosmo Freeze or Sake Bourbon Slush among other offerings. Global eats range from the Great Wall with Chinese-style pulled pork to a Sombrero with ground beef, pico de gallo, guacamole, cheese and corn chips. Cold beer too.
Morimoto Asia Street Food: A new walk-up window on the patio offers sushi, donburi rice bowls and bao tacos, plus snacks: such as takoyaki (octopus, nori, okomiyaki sauce), Morimoto sticky ribs, curry rice croquettes, pork egg rolls and taiyaki (snapper-shaped pancake filled with sweet adzuki red bean paste). Also on the menu: popping boba tea and an assortment of Asian-influenced beers and beverages.
Sprinkles: Look for handcrafted cupcakes, slow-churned ice cream and homemade cookies at Sprinkles, dubbed the first cupcake bakery by the Food Network. Options include vegan, gluten free and sugar free, and seasonal flavors.
Special Disney Cruise Merchandise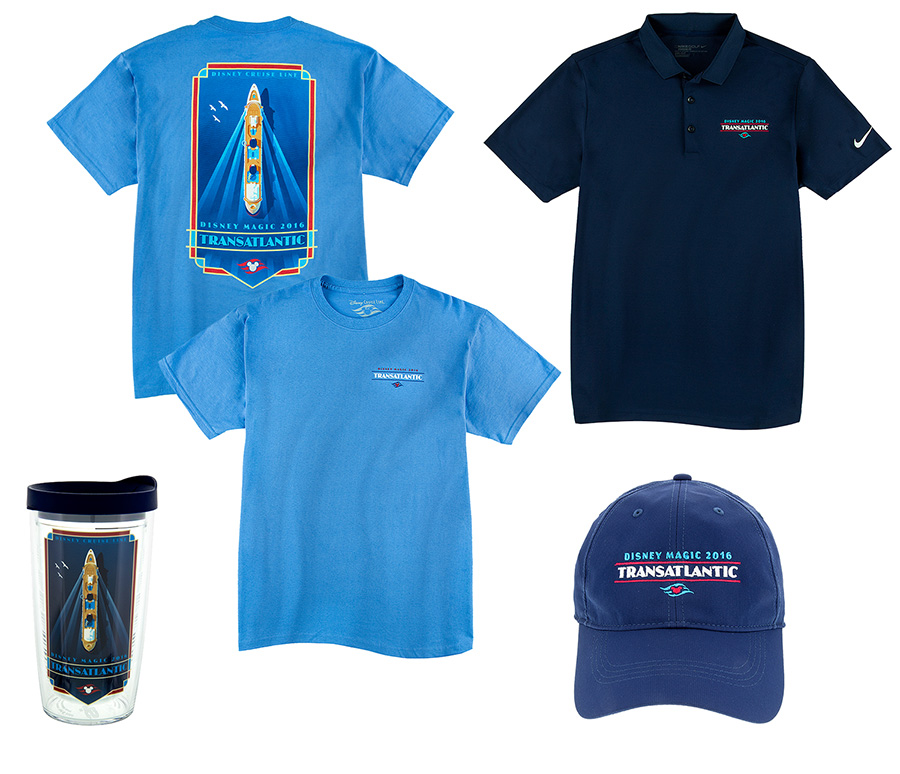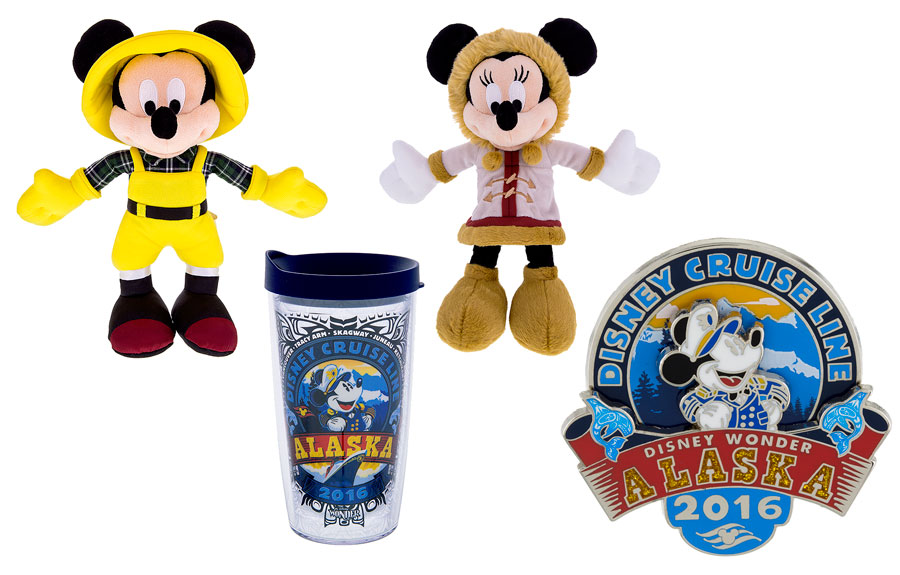 If you happen to be sailing on a Disney Cruise this summer, specifically on one of the Transatlantic or Alaskan Disney Cruise, you are in for a treat, special merchandise. Items include shirts, pins and stuffed animals all themed after your particular cruise. There is also special merchandise for the Panama Canal cruise and I am sure that later this year we will see more stuff for the European cruises too. Make sure to take your wallets along with you.
'Inside Disney Parks' Newscast
Disney has released a new 'Inside Disney Parks' Newscast, a video roundup of changes to the Disney Parks. Episode 1 was released this week, and gives you a great idea of what to expect at Disney this Summer. This episode covers Animal Kingdom at night, the Jungle Cruise Movie, Luigi's Rollickin' Roadsters grand opening in Disney California Advnenture and much, much more. Enjoy!
Did I miss any Disney news this week that should have been included?