Disney Springs, which once was known as Downtown Disney, is changing on what seems like a daily basis. In fact, a new area just opened this week which included 7 new restaurants and new shopping options. More is to come, and once completed, Disney Springs will be more than double the size of the original Downtown Disney. While it was once a side attraction to Disney and Orlando visitors, pretty soon it will become a destination for many, especially those staying on Disney property. With many Walt Disney World guests using the Disney Dining plans, those guests will be trying to use more and more of their meal credits at Disney Springs restaurants, so the addition of more and more restaurants is a plus. When using a dining plan, it always seems that I have excess credits at the end of the trip, and I have found there are some awesome snack options available at Disney Springs. So, what is the best Disney Springs Snack?
Best Disney Springs Snack Option
Many of you are familiar with Raglan Road, and their fantastic desserts. How many of you are aware of Cookes of Dublin? Probably not many, as it has been nearly impossible to get to recently with all the temporary walls around Disney Springs. It is located on the south side of Raglan Road, and with the town center section now open, it is once again easy to find. If you are looking for a great counter service restaurant in Disney Springs, this is a fantastic option. Fish and Chips, yummy savory pies and fantastic desserts.
The desserts lead us directly to the best Disney Springs snack, the "Doh Bar". The name doesn't do much for you, but how about the description?
Donut Battered, Deep Fried Snickers or Mars Bars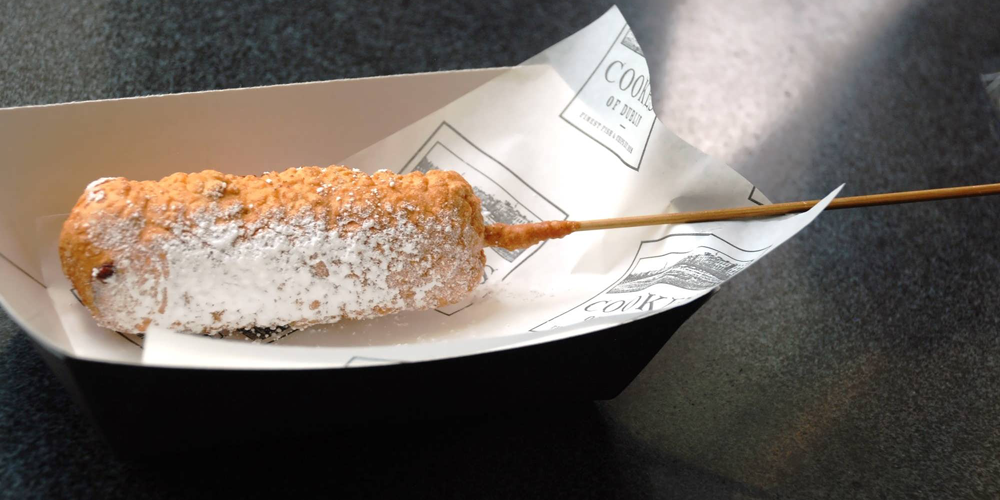 I can't find fault with even one of those words. Personally, while the Snickers options sounds better (I would much rather choose to eat a plan Snickers over a Mars Bar), for some reason the Mars Bar makes a much better Doh Bar. I am not sure if it is because of the peanuts, but the Mars Bar option is chocolaty and gooey and just perfect.
While I completely expect more snack options to show up as Disney Springs expands, it is going to be hard to find a better Disney Springs snack option that the Doh Bar.
Have you ever had a "Doh Bar"?