So many choices. Epcot has considerably more restaurants than any other Disney theme parks, and so many good ones. Some of the restaurants are better than others for kids, and Epcot has quite a few good choices for little ones. I am not huge fan of character meals and Epcot is a fantastic place to explore new cuisines without going too far outside the box. Try something new. Plus, this is Disney, and they are used to kids. Every single Epcot restaurant serves kids all day long, that is about all they do, so they have gotten pretty good at it. Most restaurants are really pretty quick, have plenty of food options for adults and kids and some even offer entertainment.
I didn't want to narrow it down to just one, so I went with three plus a few extras:
The Best Epcot Restaurant for Kids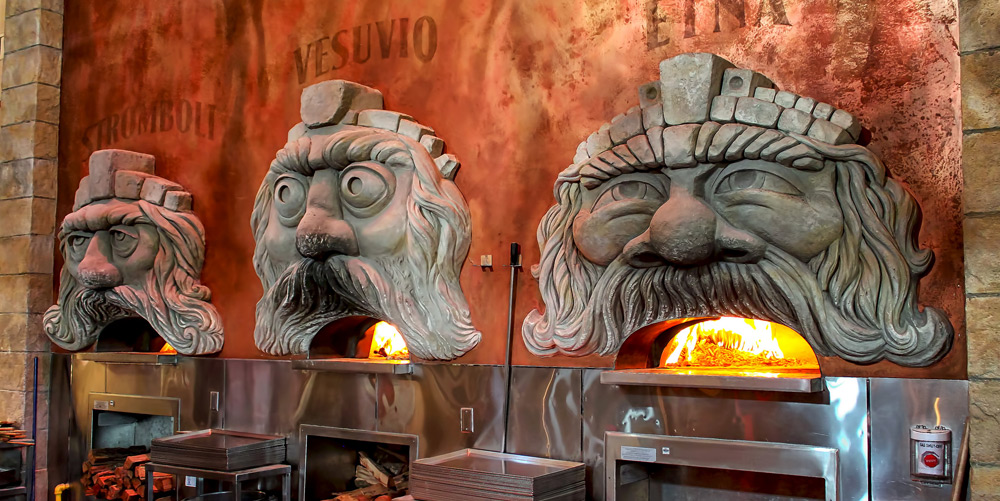 Akershus Royal Banquet Hall – This is my token character meal, and I am only including it in the list because I think it is the best character meal on Disney property, the restaurants architecture is awesome and the food isn't the run of the mill buffet food. Herring is on the menu after all. Dine with your favorite princesses, eat some Norwegian inspired food and have a blast. Both adults and kids love Akershus, and if you have little princesses of your own, it is a DO NOT MISS. If you just have little boys, you may want to move on to some of the "better' restaurants for kids below.
Via Napoli – Talk about a loud, fun restaurant! Via Napoli is fairly new in Epcot years, having opened in 2010. Of course, Via Napoli is famous for their pizzas, but do not miss the pastas, they are out of this world. The kids love the pizza ovens in the shape of three faces, you can see the fire inside their mouths. Kids love Via Napoli, as do adults.
Biergarten Restaurant – Located in Germany, the Biergarten is a buffet, complete with a special buffet just for kids, though they will probably want to pick and choose from the adult buffet. In addition to fantastic food and even better desserts (plus extra huge steins of beer), the Biergarten offers fun entertainment all night, with an oompah band, jokes and crowd participation. If you are looking for a great time, Biergarten is it.
Close seconds for Best Epcot Restaurant for Kids
As I mentioned above, there are some restaurants that are great options to experience food you may not at home, that you really should while at Epcot. These restaurants are also great options as a way to introduce kids to different cultures.
Restaurant Marrakesh – Morocco – Belly dancers and great food!
Rose & Crown – United Kingdom – Stop by for some bangers and mash, stay for the fantastic view of Illuminations.
Chefs de France – France – Fantastic food, plus you may even see Remy from time to time.
Tokyo Dining – Japan – Great sushi and other Japanese food, and the second floor location offers a wonderful view of the World Showcase.
Le Cellier – Canada – Best theme park steak you will find, and a nice quite (and air conditioned ) cellar. Treat yourself and your kids to a nice meal in the parks.
What is your favorite Epcot Restaurant for Kids?