I would assume that just about every guests in a Walt Disney World theme park eats at one of the park's quick-service restaurants during the day. In Disney's Animal Kingdom theme park, there are 5 quick-service restaurants where you can eat lunch or dinner, all with quite different food options:
Animal Kingdom Quick-Service Restaurants
Flame Tree Barbecue – Located in Discovery Island near the entrance to It's Tough to be a Bug, Flame Tree features BBQ options including ribs, chicken, pulled pork sandwiches and even a Watermelon Salad. The seating is fantastic, it is all in shaded pavilions overlooking the nearby lake with a great view of Expedition Everest. If you are ever stuck in a downpour at Animal Kingdom, the pavilions also make a great refuge from the rain.
Harambe Market – Located in Africa near the entrance to Kilimanjaro Safaris, Harambe Market features four separate walk up windows that each feature their own variety of African foods. While that may sound a bit scary to some, the food at Harambe Market is fantastic, and includes grilled chicken skewers, spice rubbed ribs and tikka masala chicken. Just make sure you check out the menu before you approach the window.
Pizzafari – Located in Discovery Island on the opposite side of the Tree of Life from Flame Tree Barbecue, Pizzafari features pizza! Not only can you get the standard pepperoni or meat lovers pizza here, you can also get items like meatball subs or salads.
Restaurantosaurus – Located in DinoLand USA, right before the entrance to DINOSAUR, the very difficult to spell Restaurantosaurus was once a McDonalds, but has now switched to more standard Disney hamburger fare, including bacon cheeseburgers, grilled chicken sandwiches and chicken nuggets. Seating is mostly inside, and air conditioned.
Yak & Yeti Local Foods Cafe – Located in Asia, Yak & Yeti features some of the food options available at the table service restaurant Yak & Yeti, including honey chicken, Korean stir-fry chicken and ginger chicken salad. Seating here is outside, and very, very limited. Even on quiet days in the parks, it is hard to find a seat at lunch time.
All 5 of these restaurants are available on the Disney Dining Plans and require just one quick-service or counter service credit per person.
I would fully expect to see another quick-service restaurant or two added in the near future, there is a definite need, and with the parks staying open later once the Rivers of Light show and other events start, there will be even more of a demand.
The Dis/dom choice for best Quick-Service Restaurant in Disney's Animal Kingdom?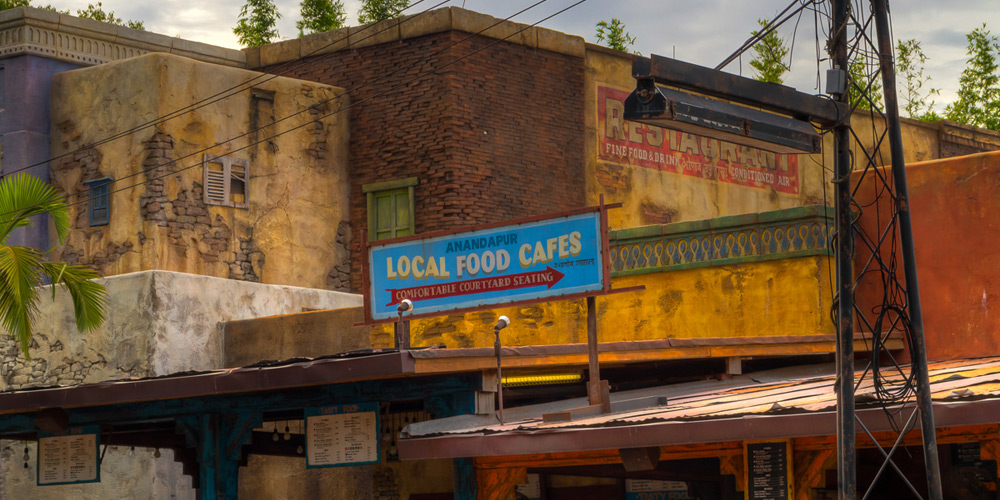 This is a tough choice. I can immediately exclude both Restaurantosaurus and Pizzafari, as their food can be found elsewhere in the parks, and isn't that great to start with. Many people love Flame Tree Barbeque, and while the seating is the best in the park, the food here has just been OK. I really, really like Harambe Market, it has fantastic food, but I think that Yak & Yeti Local Foods Cafe is the best Quick-Service restaurant in Disney's Animal Kingdom.
The food at Yak & Yeti is awesome, really, really flavorful and the portions are huge.
There are options for everyone, including vegetarians and picky eaters. If your kids are picky eaters, they can even get Uncrustables.
Do not miss out on the Egg Rolls, they are to die for.
While seating here isn't great, and much of it is not in the shade, you are a short walk away from Flame Tree's pavilions in the shade, so take a one minute walk with your food and find a spot with a view.
While I have selected Yak & Yeti Local Foods Cafe, I couldn't blame anyone for picking either Flame Tree Barbeque or Harambe Market for their family either.
What is your favorite Quick-Service restaurant in Disney's Animal Kingdom?