Everyone loves a character meal at Disney. Even if you have teens, you know deep down they love it when a princess comes over to your table, regardless of the look on their face. A Disney World character meal can be one of the memories you are your kids may think back on for years. In Epcot, while there are more restaurants than at any other Disney theme park, there is a real lack of character meals, with only 2 offerings!
So you are fully aware of the character meal options in Epcot, here are they are:
The Garden Grill Restaurant (Land Pavilion) – Breakfast, lunch and dinner. The Chip 'n Dale's Harvest Feast features your best chipmunk friends Chip and Dale, along with their friends farmer Mickey and Pluto.
Akershus Royal Banquet Hall (Norway Pavilion) – Breakfast, lunch and dinner. Princess Storybook Dining features your favorite Disney princesses, including Snow White, Cinderella, Belle, Princess Aurora, Ariel and Mary Poppins, though most likely not all of those princesses will be in attendance, they have busy schedules after all.
Cape May Cafe (Beach Club) – Breakfast only. I am including this on the list for you since the Beach Club is a short walk or boat ride away from the International Gateway in Epcot, so while not in Epcot, it is an option for most families visiting the park. Minnie's Beach Bash Breakfast features Minnie and friends, including Mickey of course, as well as Goofy and others. A great way to see your favorite Disney characters in their beach attire.
Well, there you go! So many options, but which one is the best?
The Dis/dom choice for best Disney World Character Meal in Epcot?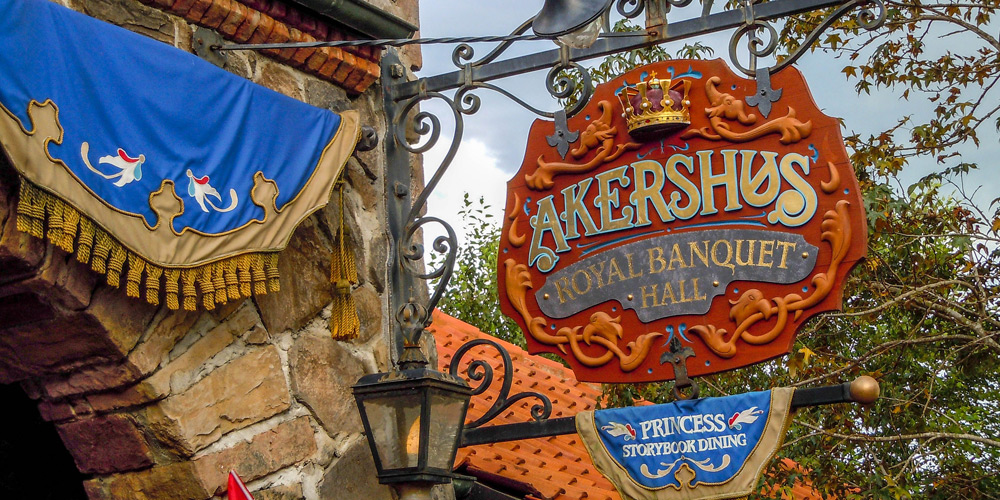 This one really isn't close. While I really like the uniqueness of the Garden Grill, which rotates and gives you a view of Living with the Lane (my favorite Epcot ride), I think the Princess Storybook Dining in Akershus Royal Banquet Hall is a much better option for most people, including families with boys.
Princesses come to your table! What could be better than having Snow White or Cinderella come to your table to talk to you? You get plenty of photo opportunities with all the princesses.
Castle Akershus is beautiful inside, just a fantastic building, a great place to eat your meal.
While Cinderella's Royal Table in the Magic Kingdom is wonderful, if you happen to be on the Disney dining plan, it is also 2 table service credits per person, while the Princess Storybook Dining meals are only 1 per person, so basically half the price! Why pay twice as much to see Cinderella?
New foods! Remember, this is the Norway pavilion, so you get a little bit of Norway with each meal. For lunch and dinner, the entrees are Norway themed. Don't worry, you aren't going to get stuck with a plate of pickled herring (unless you really want that), but you do get to choose Traditional Kjøttkake and Svinekotelett. Don't worry, the princesses speak Norwegian and can translate for you. If you are a little afraid of trying new foods, stick with breakfast, you still get a little Norwegian starter, but the rest of the food is pretty traditional American fare.
It is right next to the new Frozen ride, Frozen Ever After. While neither of the Frozen princesses appear at Princess Storybook Dining (yet), they are both just a short walk away. Please note, the Frozen Ever After attraction has not yet opened, but should open sometime in May, 2016.
What is your favorite Disney World character meal in Epcot?