Cinderella's Royal Table has long been the most popular restaurant in all of Walt Disney World. I remember going to Disney in the 90's, I would have to get up before 5:00 AM my time to call into the Disney dining call center 90 days before my trip, and I usually had to do that 4 or 5 days in a row before I could get a time. Cinderella's Royal Table was the reason why Disney now requires credit card deposits on dining reservations, as you used to be able to buy times on ebay and Disney forums for $20 – $30, and Disney was not happy about that. Even years later it is still a MUST DO for many Walt Disney World guests, especially those with little princesses in tow. While Be Our Guest has taken over as the hardest reservation to get at Disney World, Cinderella's Royal Table is not too far behind.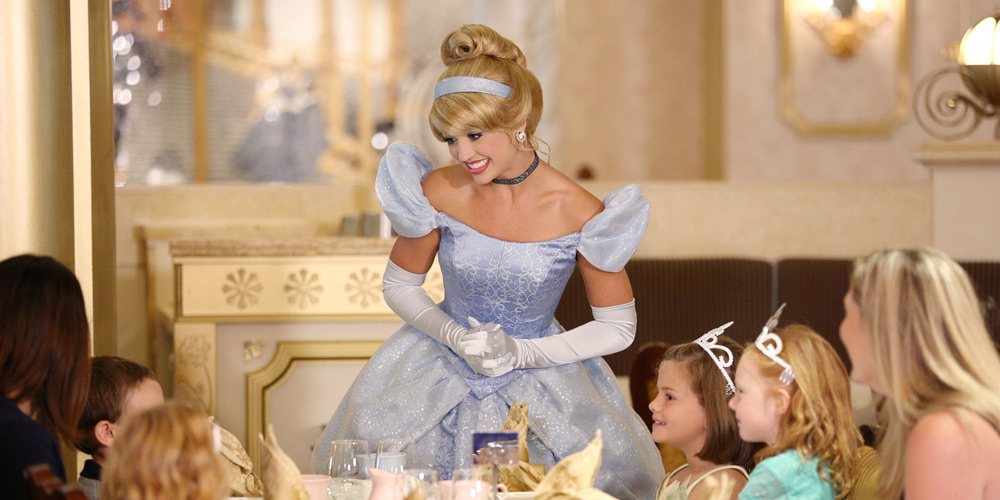 But, do you need to eat at Cinderella's Royal Table? We put together a list of Pros and Cons and let you decide:
Pros for Cinderella's Royal Table
Dining in the Castle – Unless you happen to get lucky and get to sleep in the Cinderella Castle Suite, dining at Cinderella's Royal Table is the only way to actually be "in" the castle, plus you get to sit down and eat! There is something special about being inside the castle and looking out over Fantasyland.
Cinderella and Friends – On a typical day in the castle, you will be visited by Cinderella, Ariel, Aurora, Snow White and sometimes even the Fairy Godmother. IF you are extra lucky, you may even see Peter Pan climbing around outside the windows.
Bibbidi Bobbidi Boutique – While dining with Cinderella in her castle is special, the ability to have your little princess all dressed up from the Bibbidi Bobbidi Boutique downstairs is something you can replicate anywhere else. Imagine being dressed like Cinderella and being able to dine in her castle. Wow!
Wishes – If you time your dinner right, and are inside the castle during wishes, they will lower the lights and you can watch wishes from your table over Fantasyland. Keep a keen eye, Tinker Bell will make an appearance inside the castle and fly around during the fireworks.
Cons for Cinderella's Royal Table
Cost – Several years ago, in order to try to reduce the demand for Cinderella's Royal Table, Walt Disney World basically doubled the cost for those on the dining plan, and significantly raised the cost for those who were not. Cinderella's Royal Table is now 2 table service credits per person for breakfast, lunch and dinner while every other character meal is only 1 per person. The cost paying cash can run between $60 per adult for breakfast to $75 per adult for dinner, plus tax and tip. You could easily eat at California Grill or any other signature restaurant at Disney for less.
Cinderella has another home – If you really want to dine with Cinderella, you can find her elsewhere. Go check out Cinderella's Royal Dinner at 1900 Park Fare in the Grand Floridian. While it isn't in the castle, you do get to meet Cinderella and her family, including Prince Charming, Lady Tremaine, Anastasia and Drizella.
Most Popular Princesses – If you are looking for Anna and Elsa, you wont' find them hanging out with Cinderella. I think there is some kind of rivalry between them. Some of the younger kids may not be too familiar with Cinderella or Aurora, and may do better at other dining locations.
Food Quality – Cinderella's Royal Table features a set menu, you will have a few options to choose from. Back in the day, the food quality was as good as any restaurant on property, but as Disney World figured out that people were coming to see Cinderella, and not for the food, the quality has dropped some, and it is not nearly as good as it once was, or is at other character/restaurant locations.
If you have a little princess that insists on dining inside of Cinderella's Castle, then go for it. Otherwise, I suggest you take a look at Akershus Royal Banquet Hall in Epcot. It is half the cost, has very similar princesses (the possibility of Snow White, Cinderella, Belle, Princess Aurora, Ariel, Mary Poppins, or Jasmine), the food is better, and it will put you right in the middle of Norway, home to the new Frozen attraction, Frozen Ever After as well as the new meet and greet area for Anna and Elsa, both scheduled to open in June, 2016.