In Disney's Polynesian Village Resort at Walt Disney World, there are two table service restaurants available for your Disney dining pleasure. Located basically next to each other on the second floor overlooking the lobby are Kona Cafe and 'Ohana. These two restaurants are nearly complete opposites, but which one is the best for your family?
Kona Cafe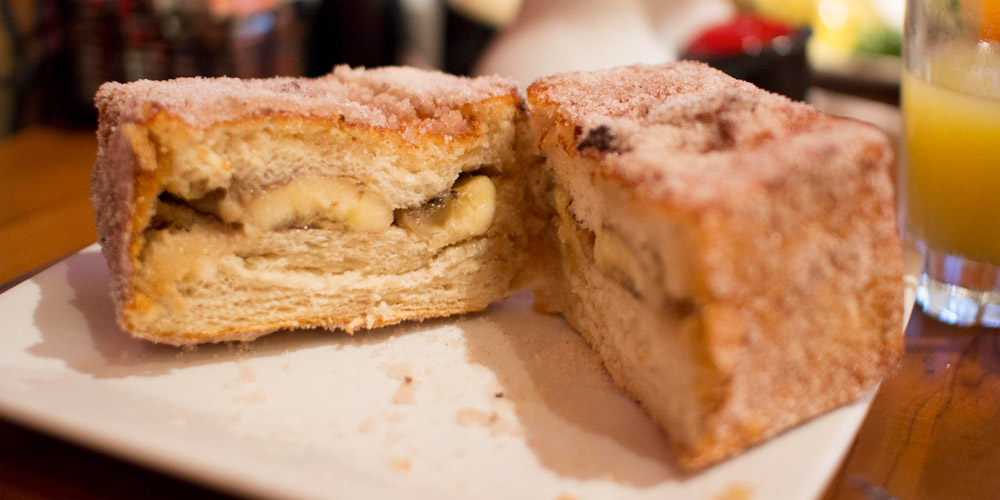 Kona Cafe serves all three meals each day, breakfast, lunch and dinner, all three meals are a la carte, and are available with one table service credit on the Disney Dining Plans.
Breakfast is home to the world famous Tonga Toast, banana-stuffed sourdough french toast rolled in cinnamon sugar. If you haven't had Tonga Toast, you haven't been to Disney. In addition to Tonga Toast, it also serves other Polynesian inspired entrees such as Macadamia-Pineapple Pancakes, the Big Kahuna (French Toast and Pancakes topped with Pineapple Sauce and Macadamia Nut Butter, Eggs, Home-fried Potatoes, Ham, Bacon, and Sausage) and my favorite, The Samoan (Poached Eggs with Hollandaise served over Smoked Pulled Pork Hash). If your mouth isn't watering right now, there is seriously something wrong with you. Oh, and don't miss the "Liliko'i Juice", I wish I could bathe in that stuff.
Lunch features Asian and Polynesian inspired appetizers and entrees. My favorite appetizer is the Steamed Pork Buns, crazy good. Entrees include a Grilled Ahi Tuna Sandwich, Barbecue Pork Tacos and Polynesian Plate Lunch with either pan fried chicken or teriyaki steak. Don't forget dessert, so many delectable options.
Dinner is the hidden gem of Kona Cafe. Appetizer options are similar to lunch, but with the addition of Sushi to the many. Entrees are much more dinner like, and feature Pan-seared Duck Breast, Grilled Curry-crusted Lamb Chops and Kona Coffee-rubbed Pork Chops. I dream of the Banana-Chocolate Crème Brûlée dessert.
Kona Cafe is a fantastic, hidden gem of a restaurant. The food is top notch, and it makes for a great break from the Magic Kingdom.
'Ohana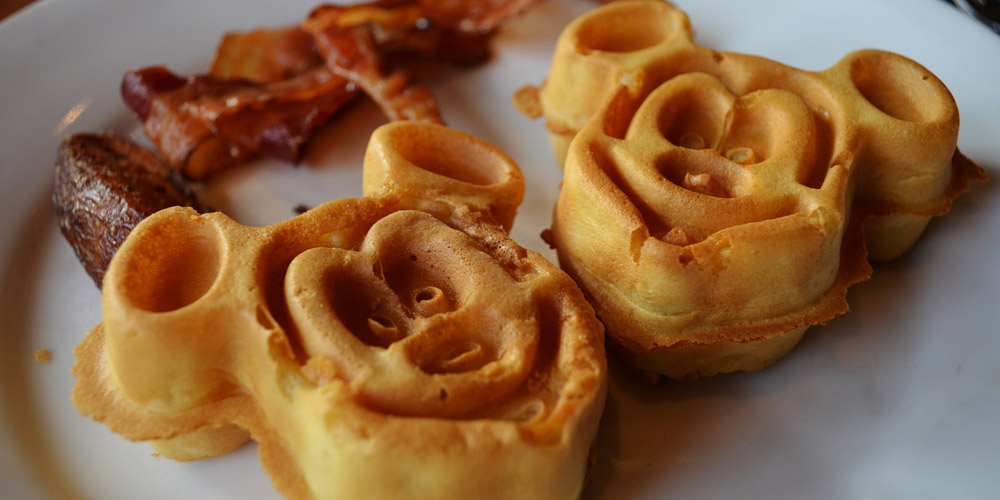 'Ohana serves both breakfast and dinner, and is one of the more popular non-theme park restaurants at Disney, both breakfast and dinner are available with one table service credit on the Disney Dining Plans. Reservations are very hard to come by for both breakfast and dinner
Breakfast is an all you can eat, pre-plated meal that includes scrambled eggs, sausage, bacon, potatoes and some magical bread that you just can't get enough of. This is not a buffet, but is all you can eat. Just ask for more of whatever it is you want, and they will keep bring it to you. Along with the food, you also get Disney characters! Lilo and Stitch host you for breakfast, and even stop by your table to say Aloha. Please note, if you are crunched for time, DO NOT plan on breakfast at 'Ohana. For some reason, they always seem to be behind, and wait times can be 60 – 90 minutes, even if you are on time for your reservation.
Dinner is also all you can eat, and like breakfast, is brought to your table. I have never had to ask for more of anything, but you always can. Dinner starts with an amazing pineapple-coconut bread that would suffice me for my entire meal. Whoever makes the bread for 'Ohana must be using dark magic. Appetizers feature Pork Dumplings and Wings, followed by skewers of Sweet-n-Sour Chicken, Spicy Grilled Peel-n-Eat Shrimp and Szechuan Sirloin Steak. You better leave room for dessert, because it is the highlight. The Bread Pudding à la mode with Bananas-Caramel Sauce is world famous, and not to be missed. While there aren't any characters at dinner, there is some nightly entertainment that usually involves kids walking around the restaurant to music.
'Ohana is a great place to eat where you will get a wonderful experience with your family, not have to make too many choices and you will get some of the best bread and desserts known to man.
Kona Cafe versus 'Ohana
While 'Ohana is without a doubt more popular, Kona Cafe is the better restaurant.
Much wider choice of food – Kona Cafe offers quite a few options for all three meals each day, and everyone in your party can choose exactly what they want rather than everyone at the table having to eat exactly the same thing. We do that at home every night, this is vacation!
Better food – Since 'Ohana serves everyone the exact same thing, they obviously make everything in super large batches, while Kona Cafe hand makes your meals, and you can tell.
Tonga Toast – While the Mickey Waffles at 'Ohana are ok, they are nothing compared to the Tonga Toast at Kona Cafe. They are a right of passage for all Disney fans, and for many, a MUST EAT every single trip.
Easier reservations – 'Ohana is quite hard to get in, unless you want to take your little kids over to the Polynesian at 9:45 at night for dinner. No one wants that.
In and Out – I have rarely waited to get into Kona Cafe, and service is usually very quick. 'Ohana on the other hand always has a lengthly wait, and meals there seem to take forever.
Well, there you go, Kona Cafe is my winner. Which restaurant do you choose and why?