I always find it interesting what tickles the fancy of the Disney universe. Announce a new ride or parade? Silence. Open a new restaurant in the Magic Kingdom themed after the ever popular Jungle Cruise? Ho hum. Release a purple Magicband? Fireworks!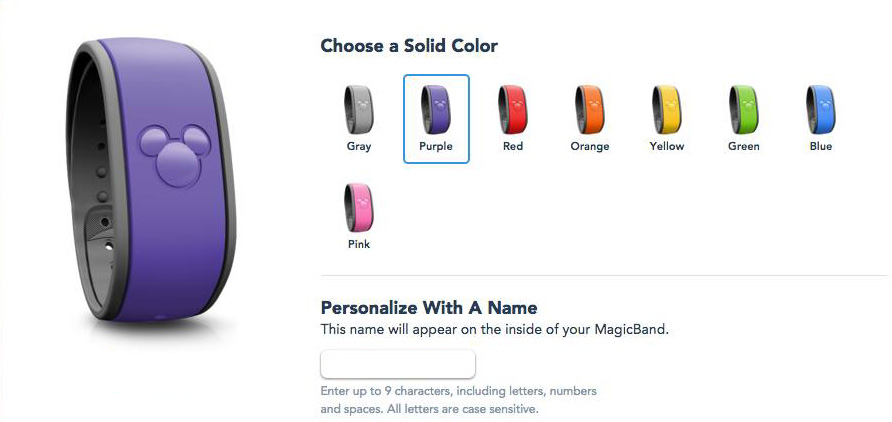 Magicbands have been available at Walt Disney World since 2013. If you remember the old Key to the World Cards, these are the 21st century version. The wristband is your room key, park pass, charge card, fast pass and just about everything else. Plus, there are new extras being added all the time. Visiting Anna and Elsa? Pretty soon, they will greet you and your child by name, all pulled from information on your Magicband.
For guests staying at a Walt Disney World resort with a Magic Your Way package that includes their Disney resort and park passes, they receive a Magicband for each person in their party 3 and older for free. Guests are allowed to "customize" the bands by choosing the color of the band as well as the name you want put on the band. However, you are limited in your color choices, and all the Magicbands are solid colors. The options are grey, red, yellow, green, blue, orange, pink, and as of yesterday, purple!
If you don't think you can live with a boring plain colored Magicband, even one of the new purple ones, Disney also sells special edition Magicbands in the parks for about $23 each, including Haunted Mansion, Figment, Disney Princesses, Star Wars and plenty of other options if you are willing to shell out the extra money once at Disney. You can even purchase them online at the Disney Store too. The good news though, the bands are reusable, so you can always reuse your cherished Jack Skellington Magicband as many times as you want.
Don't want to put out the extra dollars? Consider purchasing special Magicband stickers. I did this our last trip, and let everyone choose their own "character". Our bands were unique and looked great our entire trip. We purchased our stickers from My Fantasy Bands, the quality was great, and they had plenty of options. There are a few other vendors too that sell similar bands, or feel free to check pinterest to see plenty of home made crafty ways to customize your bands.
Will you be getting a new purple magicband on your next Disney vacation?