The Quick Service restaurants at Walt Disney World are the backbone of the dining options at Disney. Just about everyone in the park eats at one or more of them each day. In every other Disney theme park there are 5 – 7 options to choose from, but most offer very similar choices, such as hamburgers and fries. But in Epcot, there are quite a few additional options available, which makes choosing the best one even more difficult. With so many great options, it is really hard to narrow it down and decide which is the best quick-service restaurant in Epcot.
With the World Showcase area of Epcot, just about each "country" has their own quick-service restaurant, providing a wide variety of dining option for you to choose from. While I have my favorites, I make it a point to eat at others in the park, since they are usually quite a bit better than the quick-service places in the other parks. Since there are so many great options, I am actually going to include my top three quick-service restaurants for you:
Katsura Grill – Japan Pavilion, Epcot: This is a bit of a strange choice, as the food at Katsura is decent, it earns its place in the top three due to its atmosphere. There isn't anywhere in Epcot as serene as the Kasura Grill patio. I could spend a few hours there just relaxing. The lunch choices include sushi, udon, curry and teriyaki, usually a few options are available of each of those. I am a big fan of the chicken cutlet curry. My one downside of the Katsura Grill is the dessert options. They just seem like an afterthought. Green tea cheesecake or ice cream. A decent dessert could push Katsura Grill into the top 2, maybe.
Tangierine Cafe – Morocco Pavilion, Epcot: Tangierine Cafe is my default Epcot quick-service restaurant, and has been for years and years. I have been known to skip out of free lunches at Disney meetings to run over to Epcot just to pay for lunch here. Not only is the food delicious, the restaurant is rarely busy, and I also think you get your best bang for your buck here too, whether paying with cash or using a dining plan credit. The Shawarma Chicken and Lamb Platter is a fantastic mixture of chicken and lamb with hummus, tabouleh, and tangierine couscous salad. My mouth is watering just typing that. While this may sound a bit too adventurous for some, trust me, the food is just fantastic. Again, the dessert is an after though which I rarely eat. They only offer baklava, and from what I remember, it isn't even for sale, it is only available as a dessert if you are on the dining plans.
Sunshine Seasons – Land Pavilion, Epcot: While the atmosphere at Sunshine Seasons is lacking, it is still my top choice for best quick-service restaurant in Epcot. Located in the Land pavilion, seating is in the open area of the building, surrounded by the entrances to Living with the Land and Soarin', so there tend to be a lot of people around and plenty of noise. However, the food options make up for the lack of a decent dining area. Sunshine Seasons features several different "stations", each offering a different type of food, and all of it is fantastic! You can choose from grilled salmon to spicy fish tacos to cuban sandwiches to stir-fry, all in one restaurant. This is heaven for a family of choosy eaters. Not to mention the kids meals are not the standard chicken nuggets and hamburgers, but you have options like salmon or a chicken leg. Really nice for kids who may be sick of the one option they like that happens to appears on every quick-service menu. Oh, did I mention the desserts? Sunshine Seasons is only rivaled by Les Halles Boulangerie-Patisserie in the France Pavilion when it comes to desserts. The Key Lime Tart is my favorite, but so many other options are equally awesome.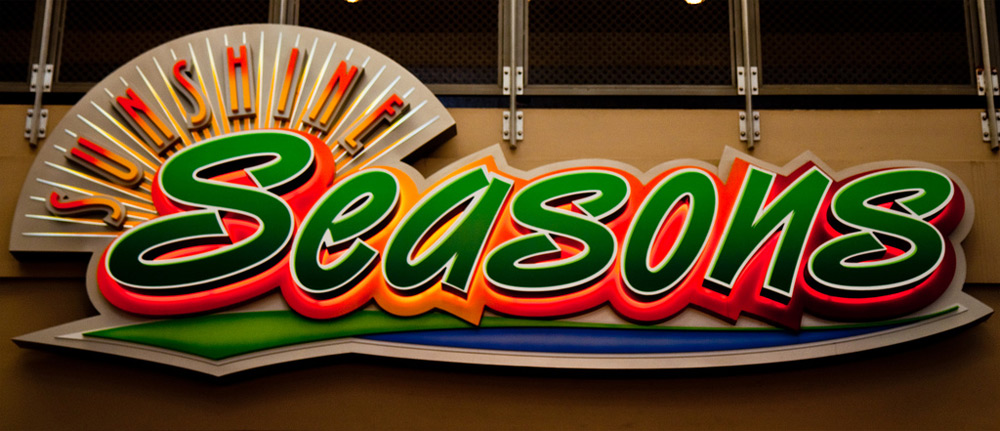 Well, there you go, my top three. However, please note, there are plenty of other decent options in Epcot in addition to these three. Hankering for some fish and chips? The Yorkshire County Fish Shop has great ones for you, but that is all they serve. La Cantina de San Angel has a fantastic outdoor seating area with great views of the World Showcase. The aforementioned Les Halles Boulangerie-Patisserie in the France Pavilion has great sandwiches and some of the best desserts in all of Walt Disney World.
Venture out, Epcot is a great place to find something for lunch or dinner that you might not get to eat at home.