Walt Disney's Enchanted Tiki Room opened in Disneyland on June 23, 1963, and is still to this day, one of my all time favorite Disney attractions. When my family loses track of me in Disneyland, they know exactly where to look, on the back row of the Tiki Room. I will be sitting there happy as a clam with a dole whip or Dole float in my hand, singing like the birdies sing. The Enchanted Tiki Room as one of the last attractions that Walt worked on full time, and it shows. The attraction is over 50 years old now, and is still a fan favorite.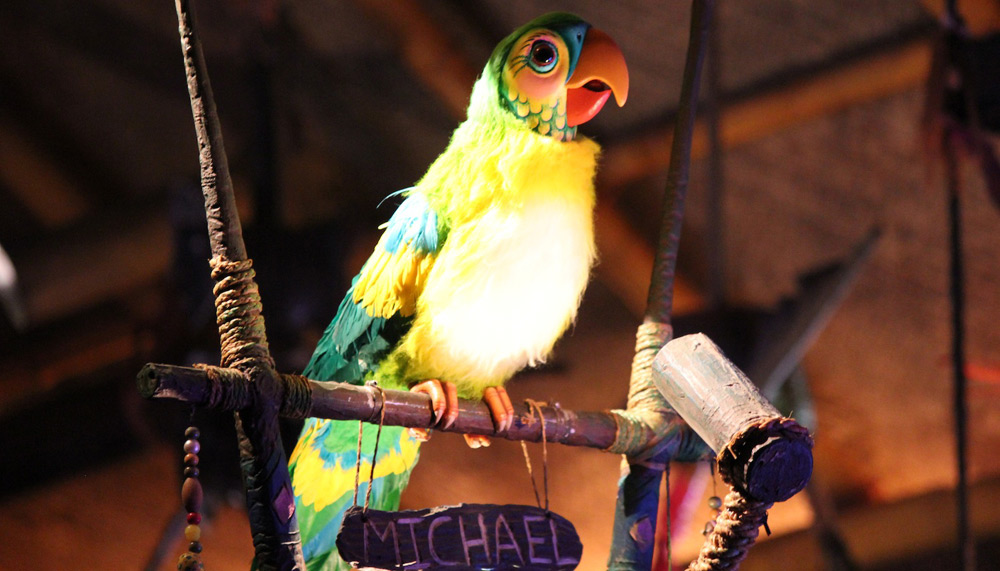 Some interesting facts about Walt Disney's Enchanted Tiki Room:
The Tiki Room is one of only two attractions with Walt's name on it, the other being Walt Disney's Carousel of Progress. Of course, there is the Walt Disney Railroad, but it isn't Walt Disney's Railroad now is it?
When first conceived the Enchanted Tiki Room was to be a restaurant, complete with the animatronic birds singing above you as you dined. Unfortunately, that never worked out.
For nearly 30 years, as you exited the Enchanted Tiki Room, you arrived right at the entrance to the Tahitian Terrace Restaurant, home of the original Disneyland Monte Cristo sandwich. After all, nothing says "Polynesia" like a deep fried ham, turkey and cheese sandwich. BTW, did you know there is now a Tahitian Terrace in the Hong Kong Disneyland?
The Dole Food Company has been the sponsor of the attraction since 1976, 40 years!
The line for a Dole Whip at Disneyland is always shorter on the Tiki Room queue side rather than on the Adventureland side. Hop in line, grab a Dole Whip and enjoy the pre-show. Dole Whips and Floats are allowed inside the attraction too!
Did you know there used to be a fifth Macaw? Jose's brother Juan used to sit outside the attraction and talk to people, a barker if you will. Juan was so popular he had to be removed pretty quickly as he always caused quite a commotion.  He was super cute, even had a little straw cap and bamboo cane.
The original show was nearly 5 minutes longer than the current version, running nearly 17 1/2 minutes. It was shortened sometime in the 90's and again in 2005 to it's current form.
In preparation for the 50th anniversary in 2013, Disneyland closed the Enchanted Tiki Room for nearly 7 months in 2005 to do a complete makeover. Everything in the ride was replaced, from features to the thatch roof. If you were lucky enough to go right around the re-opening, it was fabulous, must have looked even better than when Walt opened it.
The show features 54 singing orchids, 4 totem poles, 12 tiki drummers, 24 singing masks 7 birds of paradise, 8 macaws, 12 toucans, 9 forktails, 6 cockatoos and 20 assorted tropical birds. That is quite a cast!
The Enchanted Tiki Room is performed roughly 60 times per day, 7 days a week, 365 days a year. That equals about 22,000 shows a year!
A Walt Disney World version opened in the Magic Kingdom in 1971 when the park opened. It has gone through some changes, including a very dark time when it was taken over by Iago and Zazu, but it is now back to a near replica of the original Disneyland version.
There is also a version in Tokyo Disneyland, but it has morphed into something called "The Enchanted Tiki Room: Stitch Presents Aloha e Komo Mai!" which features Lilo and Stitch. Near blasphemy. Hopefully it will be returned to the original show soon.
If you want to read more about Walt Disney's Enchanted Tiki Room, D23 did a fantastic article for the 50th anniversary of the attraction: THE TIKI ROOM CELEBRATES 50 YEARS
Next time you are in the neighborhood, grab yourself a Dole Whip and head to the back row of Walt Disney's Enchanted Tiki Room, you may see me there.