Everyone loves a character meal at Disney. Even if you have teens, you know deep down they love it when a princess comes over to your table, regardless of the look on their face. A Disney World character meal can be one of the memories you are your kids may think back on for years. In the Magic Kingdom, you would think there would be a lot of character meal options, but there are only 2. Now, there are a places that used to have characters (Liberty Tree Tavern), places that should have characters (Tony's Town Square) and places that people think have characters but do not (Be our Guest). So, of the 2 options, what is the best Walt Disney World character meal in Magic Kingdom?
Current Magic Kingdom Character Meals
Cinderella's Royal Table (Fantasyland) – Breakfast, lunch and dinner. Located inside of Cinderella's Castle on the second floor, this is the ultimate Disney character meal if you have little (or big) princesses. Not only is the location perfect for a princess meal, but you also get to dine with Cinderella herself, as well as other Disney princesses such as Ariel, Aurora and Snow White, though her visiting friends can change. Watch out for Cinderella's Fairy Godmother who hangs out in the lobby. Look around the restaurant and find some of Cinderella's other friends such as Gus and Jaq.
The Crystal Palace (Main Street USA) – Breakfast, lunch and dinner. Basically the only place on property to find your favorite friends from the 100 acre woods. Pooh Bear, Eeyore, Tigger and Piglet visit your table while you dine on buffet selections in one of the most beautiful buildings in any Disney theme park.
That is it in the Magic Kingdom, 2 options!
The Dis/dom choice for best Character Meal in Magic Kingdom?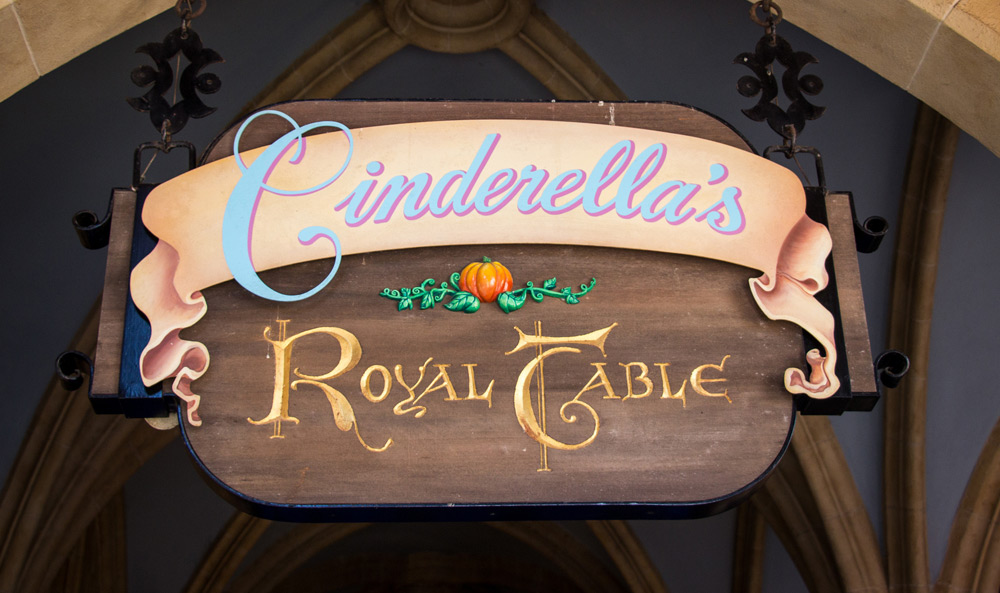 While Cinderella's Royal Table isn't my favorite character meal at Walt Disney World, it does have quite a few special things you can't get anywhere else on property, and it is definitely head and shoulders above the Crystal Palace. A great option for families, especially if you have any princesses in your family.
You get to dine in Cinderella's Castle!!!
The restaurant is stunning inside, with huge windows looking out over Fantasyland. It really feels like you are dining in Cinderella's Castle.
Princesses come to your table! What could be better than having Snow White or Cinderella come to your table to talk to you? You get plenty of photo opportunities with all the princesses.
I am not a fan of buffets, and Cinderella's Royal Table is not a buffet. The food is for the most part very, very good. While there aren't as many options on the menu as a normal Disney restaurant, the options they do have are quite good. I am a fan of the Caramel Apple Stuffed French Toast at breakfast. Not quite Tonga Toast, but not a bad alternative.
The one negative thing with Cinderella's Royal Table is the cost. If you happen to be on the Disney dining plan, the cost is double every other character meal at Disney World, 2 table service credits. Paying for cash it can run you as much as $60 per person for a character meal. This is still one of the hardest Disney Dining reservations to get, so apparently the cost isn't too big of a deal for quite a few people.
Bonus Best Character Meal in Magic Kingdom
Be Our Guest – Dinner only. While not considered a character meal, the Beast is in the house during dinner hours. Since he is so large, he does not go from table to table, so he has a designated area near the front of the restaurant where anyone can come and see him and take photos. This isn't a bad option, as I love Be Our Guest, the building is fantastic as is the food, plus you get a bit of an added bonus of a Disney character.
What is your favorite Disney World character meal in Epcot?